2022.1 Release of VehicleSim Products Are Now Available.
2022.06.16
Mechanical Simulation Corporation has announced the 2022.1 release of VehicleSim products. The new release fixes minor bugs and provides new features in the VS Math Models, the VS Browser (GUI and database), and VS Visualizer.
Following are some new CarSim features:
Powertrain improvements for automated shifting, including options to skip gears
Powertrain improvements in built-in closed-loop controller for mechanical clutch during shifts
More options for adding payloads and animator shapes to trailer sprung masses
Built-in controller for steering while backing a trailer
64-bit version of VS Browser (Windows) for better compatibility with 64-bit tools.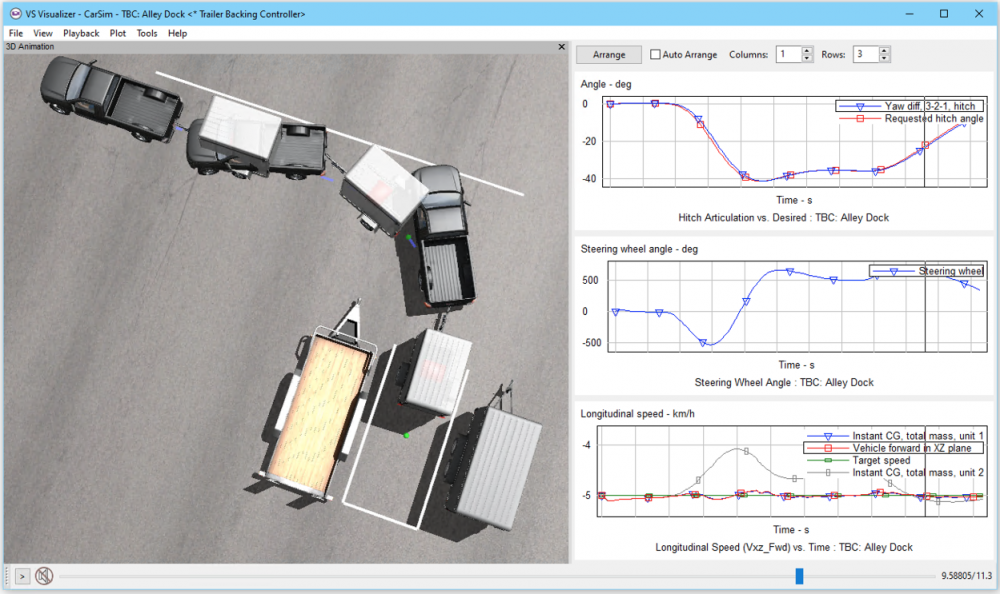 CarSim 2022.1 adds a built-in controller for trailer backing: multiple images for a top view of a vehicle backing its trailer into a parking spot.
To learn more about the new features that are included in VehicleSim 2022.1, please review the release notes for CarSim, TruckSim, and BikeSim on the Mechanical Simulation Corporation website. Customers in maintenance may download the new software versions from the user section.
CYBERNET SYSTEMS MALAYSIA SDN. BHD. distributes and supports VehicleSim products in Brunei Darussalam, Cambodia, Indonesia, Lao PDR, Malaysia, Myanmar, Singapore, Thailand and Vietnam. For more information, please refer to Vehicle Simulation Products pages.
Please contact our team if you are looking to purchase VehicleSim products or need any support for existing installations.