PTC Digital Transformation (DX) Products are Now Available in Malaysia
2022.04.20
CYBERNET SYSTEMS MALAYSIA SDN.BHD. have started promoting Digital Transformation (DX) to the manufacturing industry by maximizing the use of Industrial IoT (IIoT) and Augmented Reality (AR) solutions, such as Digital Twin*1 for predictive maintenance of in-factory equipment and the knowledge sharing of maintenance skills.
Digitalization of the manufacturing industry by using IoT and AR Remote Assistance*2
As teleworking is becoming more prevalent in the general public as a way of working in the new normal, there is a growing trend to utilize digitalization in manufacturing using IoT, and AR to provide work instructions from remote locations, even in the manufacturing industry, where remote work has traditionally been considered difficult.
It is now possible to provide solutions that link CAE solutions and the IoT platform ThingWorx® with the AR development platform Vuforia®, expanding the scope of utilization of digital twin technology. For example, by using ThingWorx to collect data obtained from factory sensors and combining it with CAE analysis results to make predictions, Vuforia can be used to display the actual part to be replaced in three dimensions on a tablet device, and the replacement procedure can be displayed through smart glasses. This will make it possible to prevent unexpected system shutdowns and serious damage to equipment, contributing to improved uptime and reduced maintenance costs.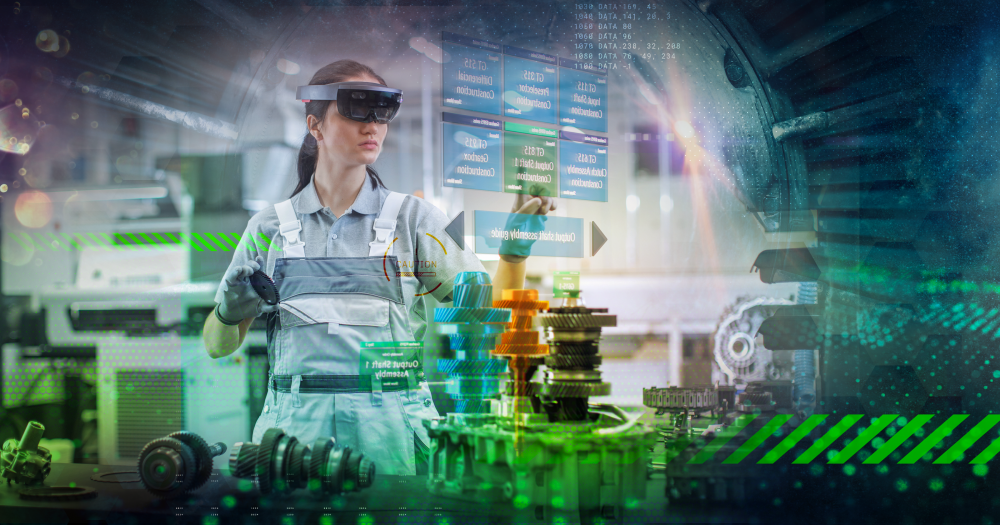 Vuforia is equipped with a wealth of functions to meet the needs of the manufacturing industry, including a tool for creating AR operation settings and content in-house by effectively utilizing existing 3D CAD design data, and software that enables instructions to be given to on-site workers at remote locations in combination with video calls. This is expected to significantly improve the efficiency of manufacturing, quality control, and maintenance in remote environments.
The AR system can also accurately predict environmental changes caused by the introduction of new equipment or changes to the factory layout. This enables equipment changes to be made with minimal disruption to the work environment.
ThingWorx – A purpose built IIoT platform, applications and developer tools
ThingWorx is an integrated IoT platform for the manufacturing industry that features not only the ability to develop IoT applications with no additional programming, but also a one-stop shop for the functions required for industrial IoT.
Vuforia Studio™ – In-house AR work support operation settings and content creation
This solution allows users to set up operation and create content for AR Remote Assistance without additional programming. Existing 3D CAD models and animations can be reused to create in-house AR manuals for maintenance manuals and assembly instructions.
Vuforia Chalk™ – AR remote assistance
This solution enables skilled workers to assist technicians in the field remotely using AR and video calls. By displaying the work site as AR on a screen such as a tablet, skilled workers can share the 3D work space with on-site technicians and present instructions.
Since the skilled worker can talk while writing in AR, it is as effective as a remote skilled worker accompanying and instructing the on-site technician. It also contributes to the reduction of costs and time required for on-site visits.
Notes
Digital twin technology: Technology that enables real-time monitoring and simulation of changes in the real environment by reproducing the real environment in a digital space.

AR Remote Assistance: A system that uses AR technology to share and display additional information on tasks such as maintenance and servicing on the screen of a tablet or wearable device (smart glasses, etc.) with people in remote locations. It is characterized by the ability to digitize not only the procedures in manuals, but also the onsite know-how of skilled workers that is not in the manuals and display it on the screen when necessary, thereby supporting accurate and efficient work regardless of the experience and skills of the workers on-site.
About PTC
PTC enables global manufacturers to realize double digit impact with software solutions that enable them to accelerate product and service innovation, improve operational efficiency, and increase workflow productivity. PTC provides customers flexibility in how its technology can be deployed to drive digital transformation – on premises, in the cloud, or via its pure SaaS platform.
For more information about PTC, please visit www.ptc.com
About CYBERNET
CYBERNET SYSTEMS MALAYSIA SDN.BHD. is an authorized reseller and a technical support provider for ThingWorx, Vuforia Chalk and Vuforia Studio products in Malaysia. We provide a wide variety of solutions ranging from Computer-Aided Engineering (CAE) solutions, Vehicle Simulation products, Casting Simulation systems, to solutions that combine CAE with emerging technology for Digital Transformation such as the IoT, digital twins, big data analysis, and AI.
CYBERNET SYSTEMS MALAYSIA SDN.BHD. is a wholly-owned subsidiary of CYBERNET SYSTEMS CO.,LTD., headquartered in Tokyo, Japan (Established in 1985).
For more information, please visit www.cybernet.asia
Inquiries about PTC products: information@cybernet.asia